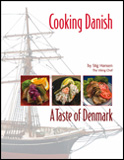 Cooking Danish
Hansen, Stig

Cooking Danish dishes up delicious servings of authentic Old World recipes including Aebleskiver, Smørrebrød and more. Featuring sensational selections for breakfast, lunch and dinner, from breads to main dishes to tempting desserts, Cooking Danish will stir your appetite and your imagination. Colorful photographs show you how each dish will look, while helpful how-to's and step-by-step photos show you how it's done. Stig Hansen is an award-winning professional chef and recognized authority on Danish cooking.
$42.95
176 pages. Hardcover.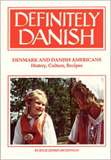 Definitely Danish
Julie McDonald
This book includes the history, culture and recipes of Denmark and Danish-Americans.
$16.95
136 pages. Paperback.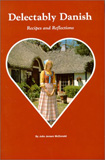 Delectably Danish
Julie McDonald
Delectably Danish: Recipes And Reflections is a flat-spined cookbook of uniquely Danish delicacies, from Danish Liver Loaf to Rum Soup, Irene's Danish Kringle, Tivoli Salad and so much more. Black-and-white and color photographs offer a visual peek into Danish culture, and the text gives an ultra-condensed rundown of Danish history and holidays, as well as famous Danes. A highly affordable introduction to Danish culinary culture, filled with easy- to-follow recipes.
$15.95
Paperback, 64 pages.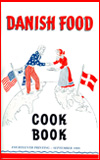 Danish Food: Cook Book
Martha Wiberg Thompson
A compilation of some of the most used recipes from around Denmark and Danish Restaurants in the US. It is richly illustrated with pictures from various parts of Denmark.
$8.95 Sold Out
Paperback. 64 pages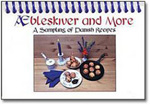 Aebleskiver and More: A Sampling of Danish Recipes
Lisa Steen Riggs
This collection of Danish recipes was inspired by the puffy round aebleskiver, an expression of the creative spirit of the Danish cook who turns ordinary mealtimes into succulent feasts. Included are recipes from Lisa Steen Riggs' personal collection, the staff of the Danish More...Windmill and Immigrant Museum, friends, and love-to-cook contributors. Among the over 115 recipes, you will find choices from the exotic to Bedstemor's (grandmother's) best. The Aebleskiver section includes hints and tips for using the special aebleskiver pan, cooking, and serving, as well as a variety of favorite recipes for these doughnut-like treats. Other savory, typically Danish recipes are found in Coffee Cakes; Sweet Breads; Pastries; Breads; Rolls; Rusks; Smorrebrod; Salads; Soups; Main Dishes; Vegetables; Sauces & Dressing for Meats, Fish & Vegetables; Cakes and Other Desserts; Cookes; and Drinks. You will find Great Grandma's Danish Aebleskiver, Danish Kringle, Danish Rye Bread, Some Favored Combinations (smorrebrod), Herring Salad, Holiday Fruit Soup, Danish Stew with Dumplings, Sweet-Sour Red Cabbage, Creamy Danish Blue Cheese Dressing, Danish Layer Cake, Danish Anise Seed Cookies, Chrismtas Punch, and much more. Interesting historical reference covers the Danish Windmill, The Danish Immigrant Museum, the Danish settlement of Elk Horn, as well as other Danish historic sites.
$8.95
Paperback. 166 pages